The small outcrops around Bright Beck crag are hidden in the secluded and tranquil setting of Bright Beck Cove, which is just north of Pavey Ark and above Stickle Tarn in Great Langdale. The beautifully rough and pocketed Rhyolite walls of this brilliant cluster of small crags face NE, sitting high above the cove bask in the morning light as you take in the views SE across the lake District fells and down towards Windermere. The crags are shielded from the persistent westerly winds by the southern slopes of High Raise and this whole area is covered in micro routes and boulders. On the whole, these are typical of the Lakes – never as big as they look from several hundred metres away!
'Hard Cheese' is the obvious overhanging and immaculately clean corner on a small outcrop 150m to the right of Bright Beck Crag. The route sits high above the Cove and on the valley's western flank, nestled in amongst a cluster of other small but steep and immaculately clean buttresses, and pyramid peaks with scattered boulders joining up some of the dots. What caught my attention and hinted to what might lurk there, I found whilst leafing through one of my old 'dogeared' Fell & Rock Climbing Club guides to Langdale, and at the bottom of page 86, there was a reference to a blank overhanging groove, as yet unclimbed! The only other route mentioned was by the Lakes legend himself 'Dave Birkett' who had previously climbed a hard line he'd called 'Peppered Boursin' graded E7 7a, which conveniently provides a good place to start this story and hopefully will set into context the difficulty of 'Hard Cheese'.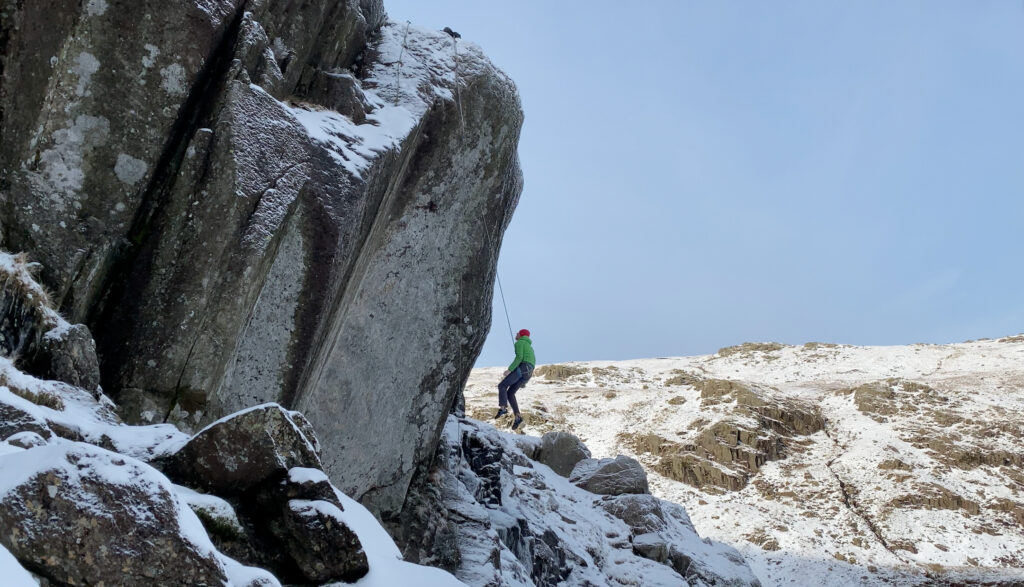 Back in 2013, the route 'Peppered Boursin' was the only route on this buttress and the main reason for my first visit to the crag. Subsequently Babybel E2 5c and Dairylea HVS 5a, two great routes have been added, but these 'soft cheeses' all sit beside the steep, and very hard looking featureless, overhanging groove! – the 'hard cheese' if you will!
That isn't to say that soft cheeses are all that soft. Indeed, Peppered Boursin which is arguably the softest of the soft cheeses to eat, is actually a masterpiece of hard climbing and I was very pleased with my ascent back in 2013.
It would be another two years before I actually went to take a proper look at the yet unclimbed overhanging groove. What I very quickly realised abseiling down, was that I couldn't even pull myself into the groove to take a close look – as there were no holds! But at least I'd made the effort to look and I could now understand why it hadn't been climbed!
For some reason I went back to the crag in April 2016. I'm not 100% sure why, but for some reason I was drawn back up to Bright Beck and this striking line, but probably to satisfy myself that it really was as unclimbable as I remembered. This second acquaintance with the line, re-affirmed the enormity of the climbing challenge; no holds and no gear to protect the ascent. I could only find a small 'RP' placement which was conveniently only 1m from the top of the groove. Ok to lean over the crag and place, but not a huge amount of protection when climbing the route itself!
Moving away from Bright Beck in Langdale, I found myself the following day back in the familiar Duddon valley, completing a long term project and making the FA (First Ascent) of 'Mr Cuddles' E8 6c. Completing 'Mr Cuddles' also resulted in the search for a new project, and Bright Beck was certainly not it! The climbing seemed at this point, just too hard. It felt like a 'next generation' challenge – hence it remained a great 'stand-out' problem for so long.
Accepting its 'futuristic' status, allowed me to forget it existed and move to more attainable goals. I worked on other projects and in May 2016 completed the FA of a very dynamic & gymnastic route called 'Atlas' (E7 6c) before then repeating the difficult 'Pretty in Pink' (E7 6c) on Deer Bield Buttress, Easdale above Grasmere in June. I finished the year with a bit of sport climbing on the steep limestone crags of Chapel Head and Humphrey Head in the South Lakes, establishing a couple of new 8a/+'s and repeating John Gaskins's 8b+ 'Head Like a Hole'.
It was in 2017 that my climbing focus changed – in that it took a backseat for a while. My usual climbing partner (my dad Rob) was becoming more involved in competitive cycling and was frequently away at weekends when I was able to climb. As a result, I often didn't have a regular climbing partner. Rather than just go bouldering on my own (which holds little interest for me), I started visiting Bright Beck again and happily (and fruitlessly) bounced about on a Petzl Grigri, trying to find something that I could hold onto in that steep overhanging and seemingly featureless groove. Gradually over many visits, I managed to find features that I could at least use to maintain contact with the rock. It was a positive start!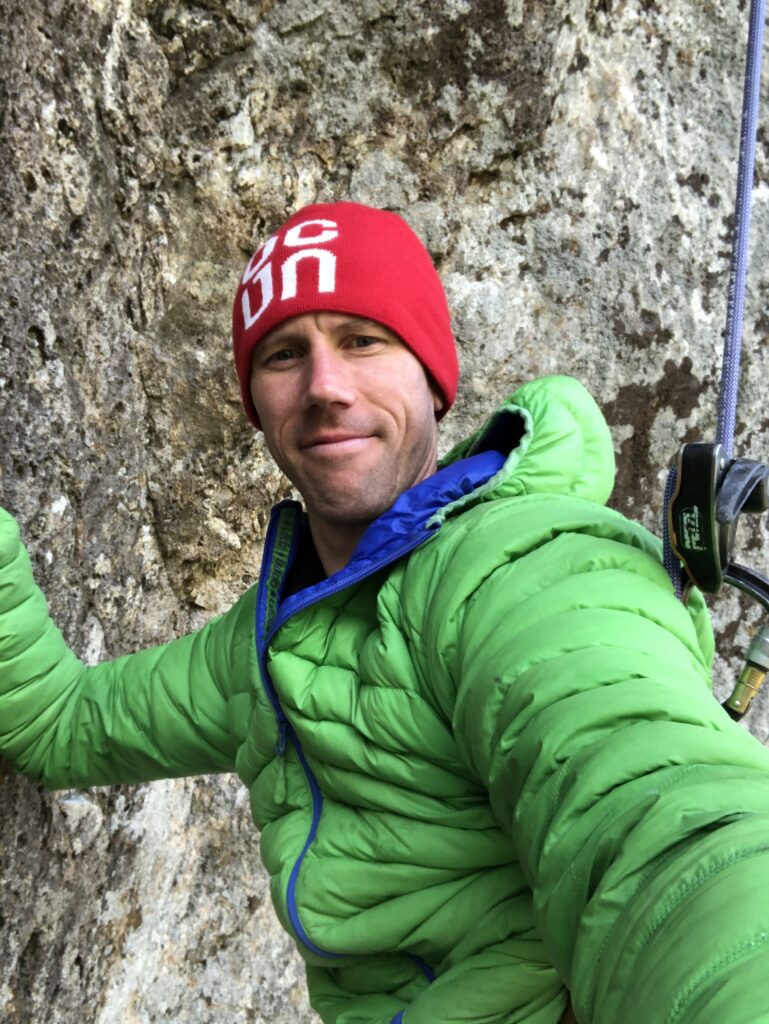 I didn't think about the route as a climb, I just through about it as a puzzle in which my sole objective was to find as many positions in the groove that I could maintain a static position. The process was then to try and figure out ways of moving between these static positions.
At the beginning of the 2018 climbing season, I was keen to get back up to Bright Beck – but this time with someone to hold my rope. It was the "Big Mountain Weekend" and the early May weather was glorious. The sun was out and beers 'n' BBQ awaited at the NT Stickle Barn! My efforts to try and link a few intricate moves together, on holds that are not really there, was perhaps a little bit optimistic and resulted in a shoulder injury and a very slow walk back down from Stickle Tarn. Needless to say, the beers didn't taste as sweet as I would have liked them to!
There was still no contemplation in 2018 of ever actually leading the groove. I felt that simply top roping the line would be a contender for my lifetime achievement, and this was still a long way off! Accordingly, my summer climbing activities targeted realistic objectives and after several weeks of fell running my shoulder felt sufficiently recovered to return to climbing. This commenced with the development of a crag called 'Black Wars' on Pike of Blisco above Langdale, with me climbing and completing a number of FA's in the E4 to E7 range, followed by the serious 'Prowess' E8 6c on Dow Crag, above Coniston. The year finished with a repeat of another one of Dave Birkett's masterpieces – 'Welcome to the Cruel World' E9 7a up on Scafell.
For those unfamiliar with 'Welcome to the Cruel World', this is the benchmark power test. Dave Birkett talks about this line in a 'Jamcrack' podcast hosted by another legend 'Niall Grimes' suggesting that he should have given the route a grade of E10, with the benefit of hindsight (because in Dave's view it's harder than any of the E10's he's done!!) In my experience of Lakeland E9's 'Welcome to the Cruel World' stands above the rest when it comes to pure physical difficultly.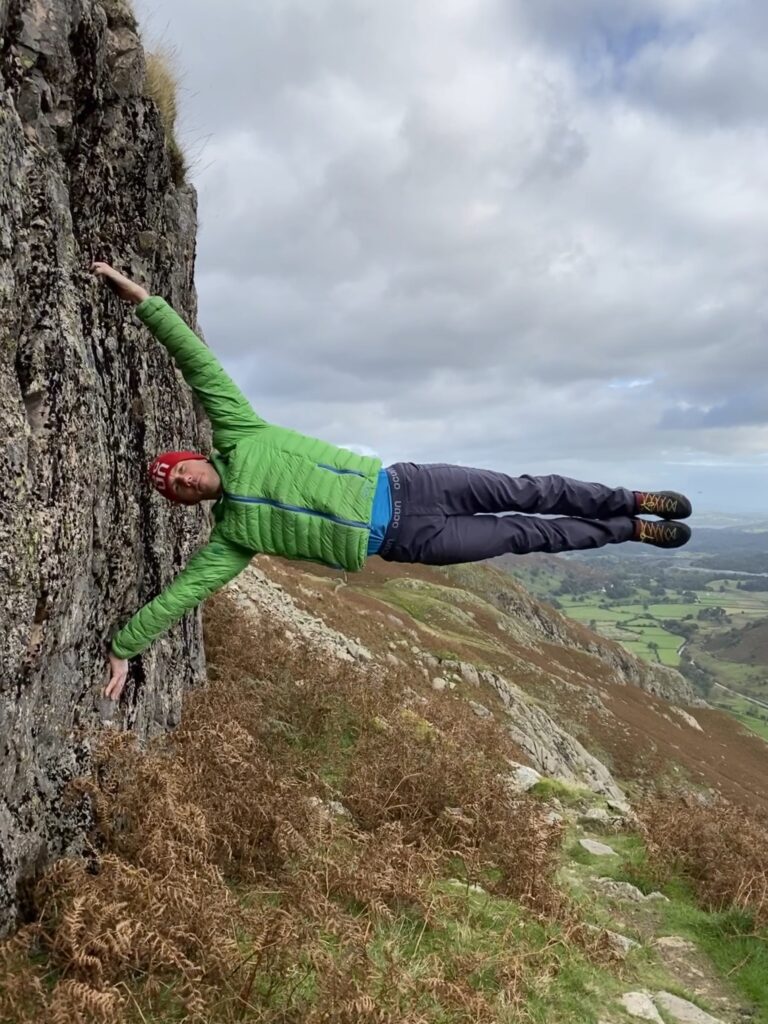 With the confidence of having climbed 'Welcome to the Cruel World' my visits to Bright Beck in September 2018 were with a new level of confidence. I felt as if I had earned the right to be on this hard almost ephemeral project. The only problem was that my training to repeat 'Welcome to the Cruel World' had brought on acute elbow tendonitis (due to excessive numbers of daily pull ups) and I recall trying to do the moves on Bright Beck with a right elbow that felt as if it was made of glass and about to explode. I packed up, left the crag and was unsure if I'd ever be able to climb again.
With the benefit of a good physio and a willingness to do my rehab diligently, I was able to climb again in January 2019. By February I was back to climbing E6, ticking off anything I hadn't done in the Duddon valley. At the end of Feb, I established a new E7 'Scary Canary' on Raven Crag Yewdale, repeated 'Geronimo' an E7 on Shepherds Crag in Borrowdale, repeated the 'Keswickian' an E8 on Gouther Crag in Swindale (whilst also adding the gnarly alternative 'Barrovian' finish). I repeated 'Hasty Sin Oot Ert Hoonds' E9, 'Nowt But A Fleein Thing' E8, 'Lookin Lish' E8 and made the FA of 'Baby Face' E7, all on Cam Crag in the beautiful Wasdale Valley.
I also made the second repeat of the amazing line 'Another Lonely Day' an E8 up on Scafell's East Buttress. And then finally in November I repeated another E9 Lakes test piece, 'If 6 was 9' up on Iron Crag, close to Keswick. It was a good year by anyone's standard – but pretty exhausting when put into context of having a full-time job in engineering with a wife and two young kids.
Moving into 2020, whilst there were still a few E9 routes in the Lakes that I could have focused my attentions on, nothing compelled me quite like Bright Beck did. I just enjoyed being up there – the tranquillity of the setting provided an escape from the 'real world' pressures (work/family etc – the usual mundane stuff!) but as coronavirus started to appear, the outlook went from bad to worse.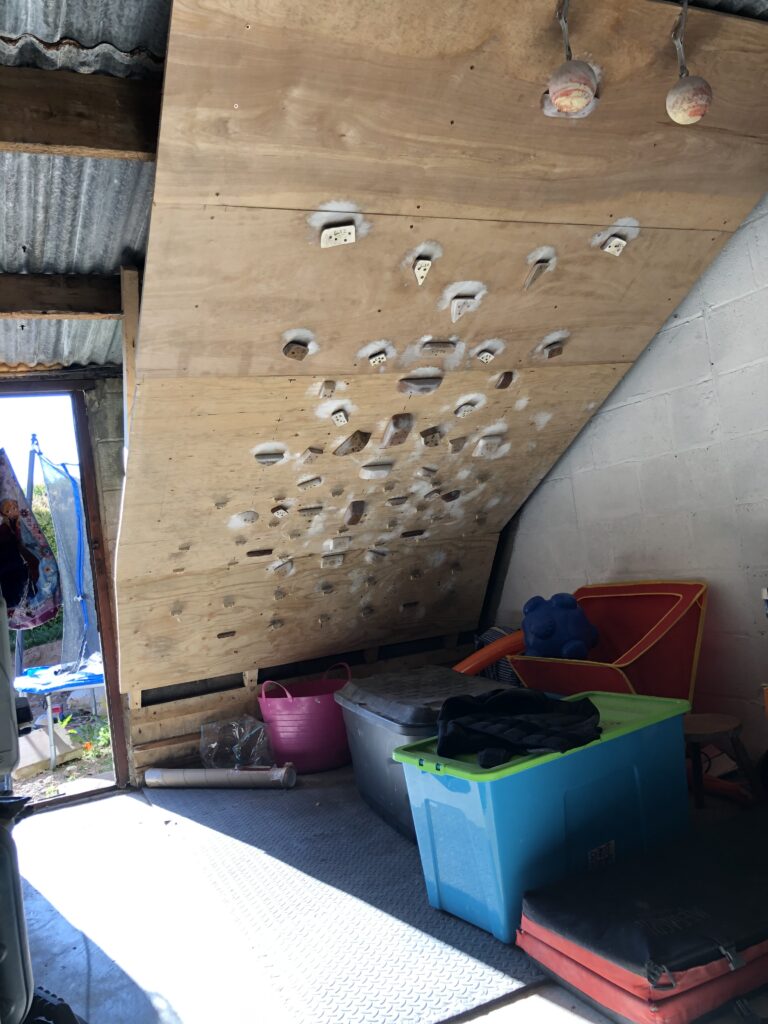 During lockdown I didn't train on my home board at all. I had been managing tendonitis in my left elbow for a number of months and the fear of enticing this debilitating ailment back, meant I stayed away from crimping/pulling on the board. Instead, I worked on my muscle balance by doing a range of gymnastic floor exercises. Needless to say, when I came out of lockdown in June 2020, I had lost some climbing fitness, but at least my elbows weren't hurting!
Post lockdown 1, I started to pay a few visits to Bright Beck again and by the time I established 'Holy Braille' (E7/8) a new route up on Scafell in September, I was feeling fit again. I started to put in some really promising links on the top rope and very quickly the goalpost of achievement started to shift in my mind. It wasn't enough to top rope it anymore, I wanted to lead it. There then followed months of stop/start antics as we were/weren't allowed to venture out of the house/local area or whatever political jargon was espoused at the time.
I opted for a hybrid approach using pads and the natural protection – the lonely 'RP' at the top. My initial concept was to place the 'RP' runner on lead in my usual style of ascent. What became apparent though was that placing the runner was actually pretty difficult and strenuous. In order to gain some efficiency of movement and enable a quicker runner placement, I configured a system whereby the runner was attached to my chest with Velcro and then clipped to the lead rope via a long sling. A long sling was needed because the weight of the lead rope needs to be on the harness and not the Velcro. Essentially I just ripped the runner off my chest and placed it. This sounded great, but this setup came with a massive risk.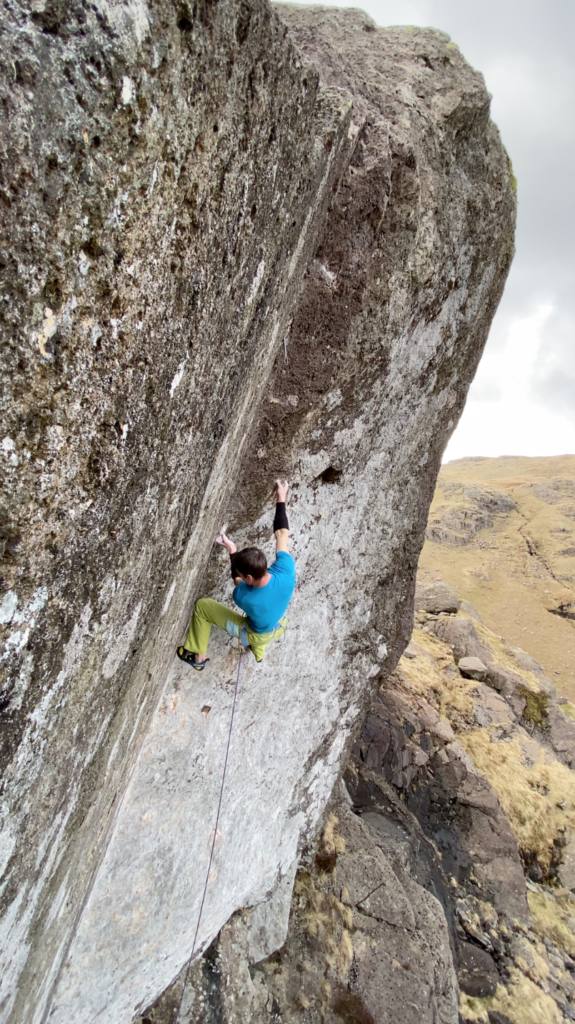 If the runner was placed incorrectly (as frequently happened on my top rope practice) you were physically connected to the runner (i.e., it's in the rock and your now attached to it via the lead rope). You're climbing 8c and hanging around to readjust this runner wasn't really an option for me. A fall at this point would bring into play two unknowns, firstly whether the runner would hold and secondly (if it popped) what direction would it throw you in? Without any control of fall trajectory or body orientation the probability of a serious/life changing/ending injury was enhanced further.
If I was going to lead this route successfully, then an additional measure would be needed that would swing the balance in my favour. The only option for me was to preplace the runner. To do this, the 'RP' was swapped for a karabiner and again fastened with Velcro to my chest, with the connecting sling clipped onto the lead rope. I simply ripped the karabiner off the Velcro and clipped the wire of the 'RP'.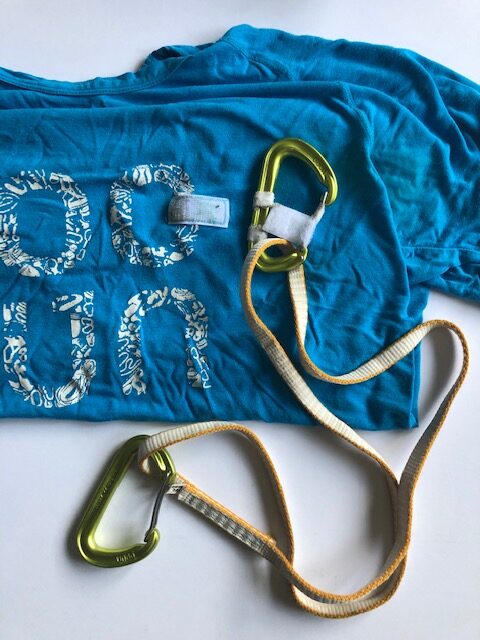 Other measures I had to take to improve my chances of success were to dispense with my chalk bag (as I had done on another one of my routes 'Mr Cuddles') and instead have little 'dab pads' sewn onto the trousers where I could 'dab' a chalky pad without having to move my arm around my back, plus it saved a few grams of weight. The rope I used was only 7.5mm and again saved a few grams of trailing weight. I also used some arm warmers for colder days made out some old socks, an attempt to keep my fingertips warm!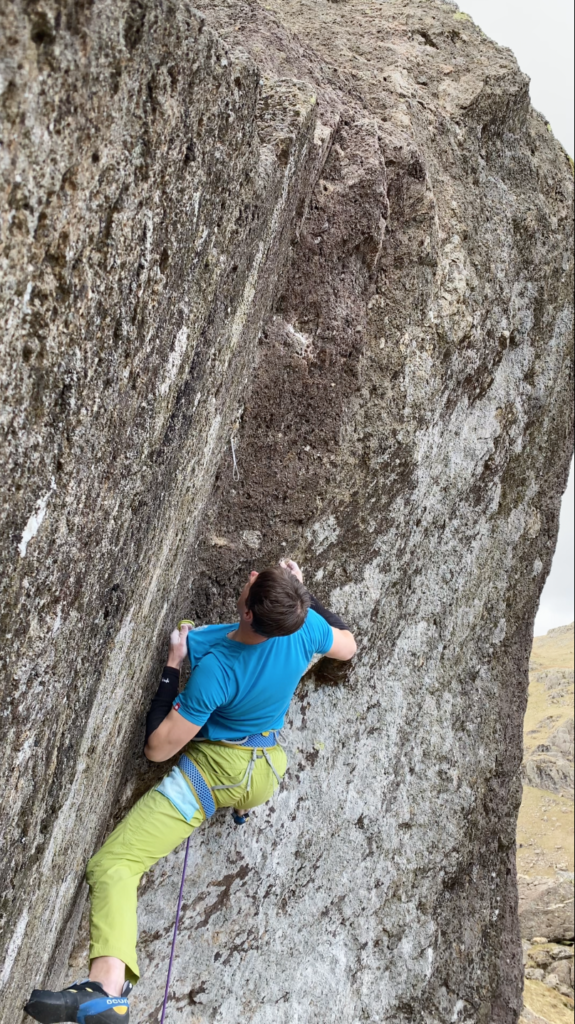 I analysed all the top rope attempts and created a spreadsheet of times spent at the marginal rests, the speed of ascent with split times between sections and analysed the data for trends – what was the optimal climbing pace, how long should I shake at certain holds/body positions? What hidden secrets did the data hold?? All of these things are marginal, but every little piece of information, every new insight would help to swing that balance of success. (All very sad I know – but it is known as continual improvement and if you work in engineering as I do, then this is how you work).
Finally, on the 28th May 2021 I started up the route, going through the motions – sticking to the plan, grimacing, fighting, straining to keep control of that centre of mass as vertical progress is made. Through the first section, through the middle section, onto the flake, twist those hips into the rock, lock position, rip the clip off the chest, squeeze the right hand, grab the last crimp, fight, fight, feet up smear, slap and hold it…., – DONE!!
FA of 'Hard Cheese' in the bag!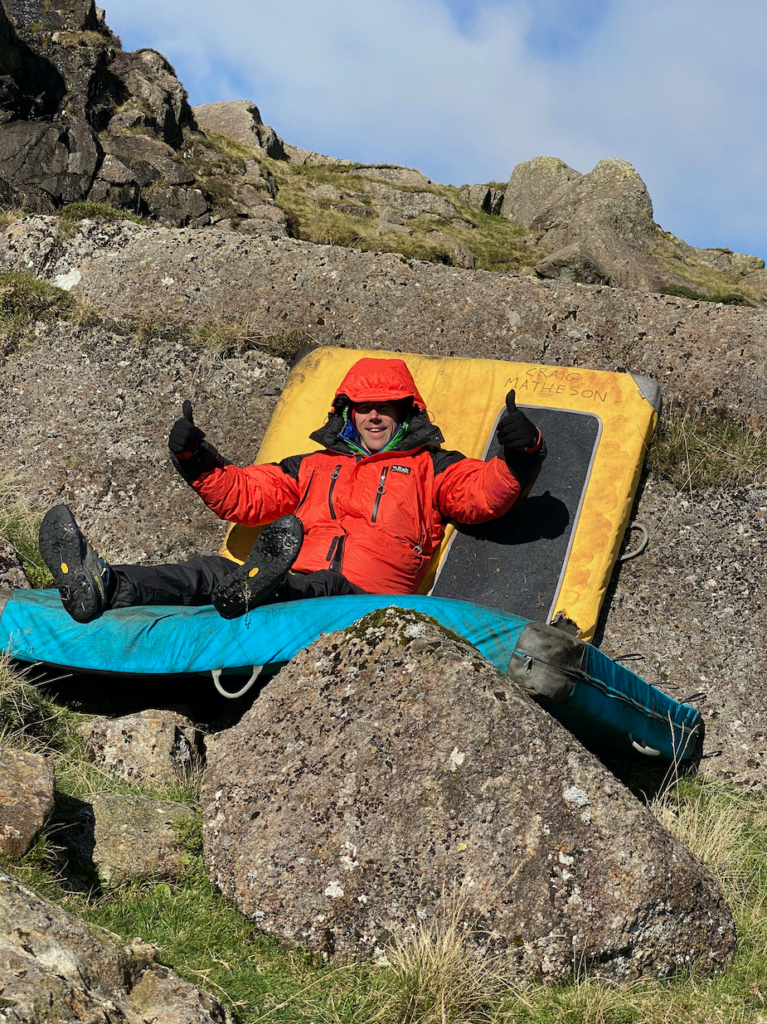 Euphoria yes, but that little voice soon creeps in – could you improve on that?? Why not train over the summer, come back in Autumn, stronger/fitter and place that runner on lead – the next logical step???
Unfortunately, this Autumn barely provided a dry day and the prospect of climbing the route placing the runner on lead disappeared (for now at least) so it felt right to report the route as it stands.
FA Hard Cheese E10 7a (1 preplaced runner) absolutely brilliant!
Thanks to my dad Rob for all his hard work, help and motivation over the years and with this project especially.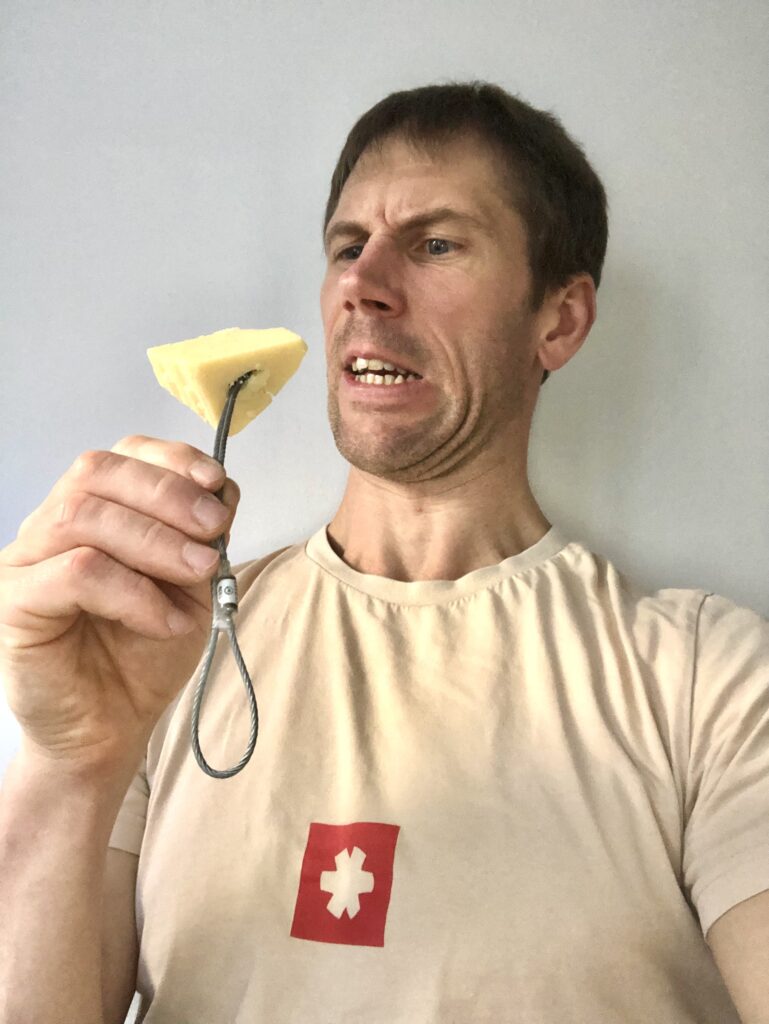 PLEASE NOTE – If you go and try 'Hard Cheese' and you want to drop a rope down the crag to do this, then please do not use this 'RP' placement, to clip your abseil rope into – this placement is both fragile and poor. It needs to be preserved for those on the lead. The placement only works with a downwards pull and an outwards loading of an abseil 'deviation' will strip it – many thanks.